GARY SCHALL'S MUSICAL JOURNEY
Original concert program from
Schall's first concert with Steve Reich
Gary Schall began performing the music of Steve Reich when he was 16 years old while studying with James Preiss at the Manhattan School of Music Preparatory Division. He performed his first concert with Steve in 1975. At the time he was 19 years old, making him the youngest member of the ensemble. Schall has continued to perform with Steve for over four decades. The depth of this experience had the most profound influence on Schall as a performer and composer.
Original poster for
Music For 21 Musicians Concert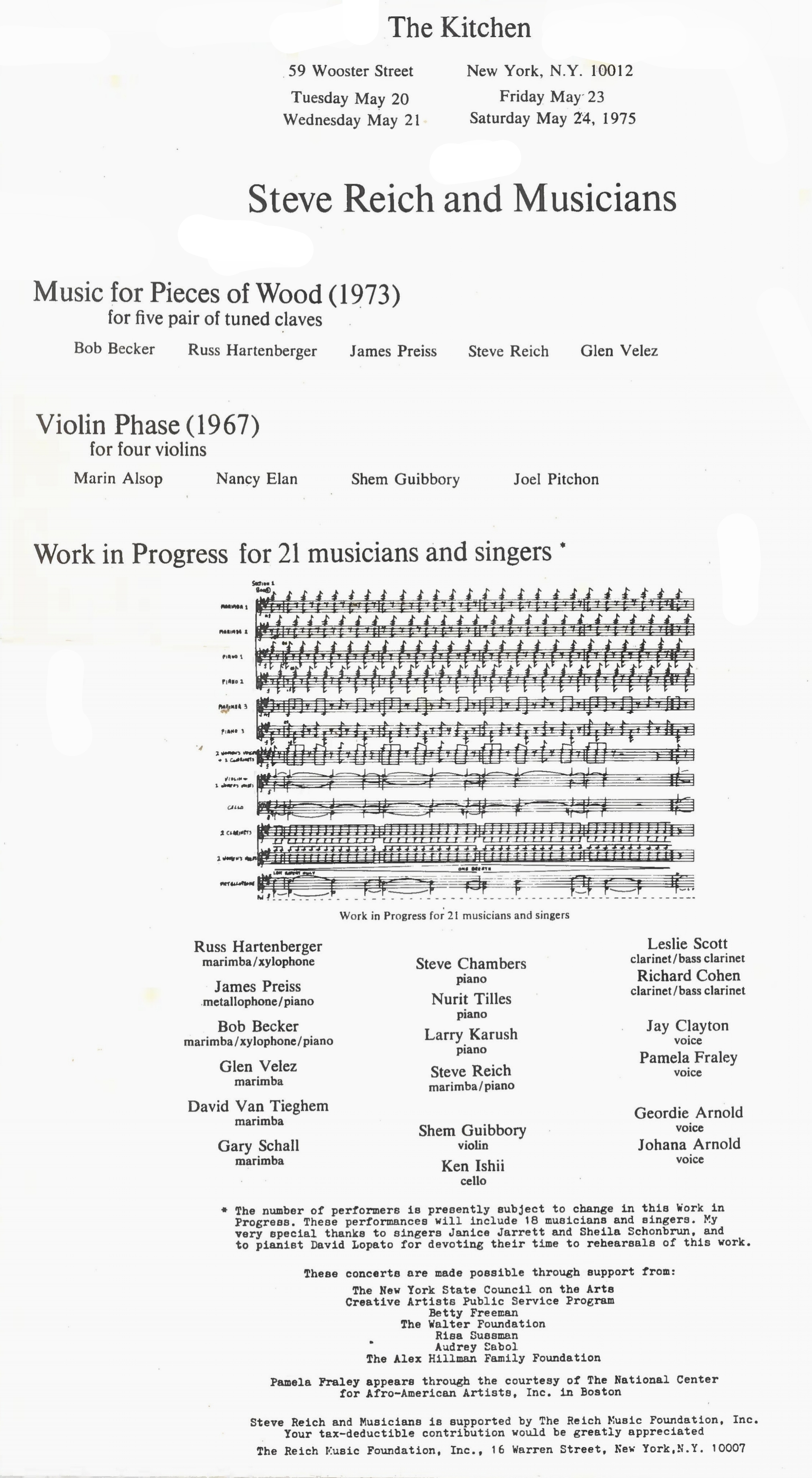 Schall had the unique privilege of working with Steve Reich as he composed his landmark work, Music For Eighteen Musicians. He performed the Work in Progress originally written for 21 musicians. For two years in the making, Schall experienced the creation of this masterpiece from the inside.
Russell Hartenberger Gary Schall
Poster for performances
featuring collaborations between
Gary Schall and Aniita Feldman
For over fifteen years, Schall has collaborated with Anita Feldman who has gained an international reputation as a leading innovator of tap dance. Schall composed for Feldman and together they performed on the patented "Tap Dance Instrument", a wood and brass multi-timbre floor. They performed in prestigious venues that included the Colorado Dance Festival, Boston Dance Umbrella, Dance Theater Workshop, American Dance Festival, and Seibu's Studio 200 in Tokyo.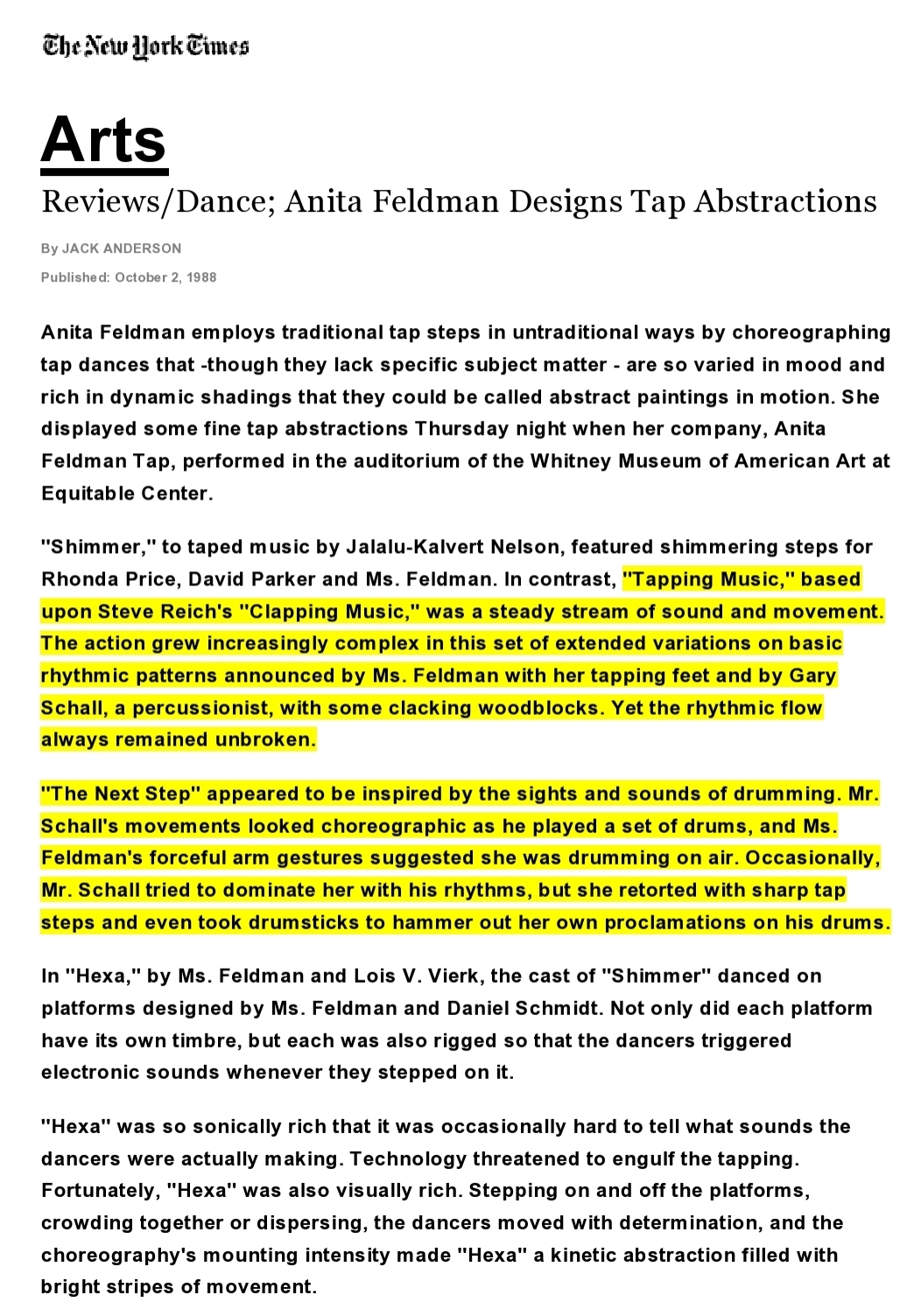 Feldman choreographed movements for Schall and in addition to Schall's own compositions, Feldman & Schall performed Clapping Music by Steve Reich- all to critical acclaim.
EXCERPT OF PERFORMANCE
ON THE PATENTED TAP DANCE INSTRUMENT
FLYER FOR NEWBAND
PERFORMING MICROTONAL MUSIC
Schall was a pioneer of microtonal music on the Zoomoozophone, a metallic instrument
with 31 tones per octave created by Dean Drummond. Schall performed Drummond's music as well as the music of Harry Partch. Schall's composition, Xonix became a regular part of the Newband repertoire.
Schall performed throughout the United States with choreographers Erick Hawkins and Laura Dean. Hawkins was the first male dancer in the company of Martha Graham whom he later married. Schall performed his major works including compositions by Lucia Dlugoszewski. The first time he performed with Laura Dean was with Steve Reich to critically acclaimed choreography of Reich's masterpiece, Drumming. He went on to perform with her through decades to follow.
Schall performing on drumset with Laura Dean
BUILDING BRIDGES IN A COMMUNITY
Since 1999, Schall has served as the Artistic Director of the Lawrence Philharmonic, a community orchestra in Lawrence, New York. Through a partnership with the Lyric Chamber Music Society, guest artists including Jean Pierre Rampal, Mark Gould (Principal Trumpet,
Metropolitan Opera Orchestra), and the Moscow String Quartet presented masterclasses and performed with the orchestra.
Under Schall's direction, choruses reflective of the diversity in Lawrence came together for a performance that celebrated unity in the community in the aftermath of Superstorm Sandy. Commisioned by Mastervoices specifically for Lawrence and written by composer Marisa Michelson and librettist Royce Vavrek this "community oratorio" for over 200 performers was a landmark event.